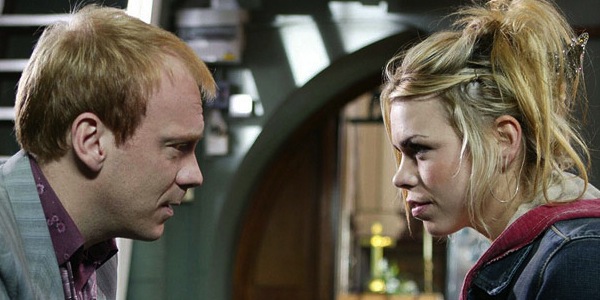 I am probably going to retract this by the end of the season, but this is the best episode of Doctor Who so far. The first half of the season was acclimating new viewers to the Who universe and doing a lot of setup and stories that could only be done once.
This episode is the first real episode to explore what Doctor Who is capable of. Everyone wants to be the Companion and run away with the madman in the box. However, the strongest Doctor Who stories have always been character studies about specific companions and their own lives and stories. The fact that the "monster of the week" isn't the Cybermen or The Master or some other outside force other than Rose's desire to save the father she never knew makes this episode far more compelling than later outings with the Tyler clan.
It is my feeling since Stephen Moffat took over we are getting further and further away from actual stories about the Companions and getting more entrenched in JJ Abrams' Mystery Box phenomenon. And no, this past season with Clara and Danny has not changed my assessment. It's an improvement, but nothing dealing with Clara has has the same emotional gut punch that Rose, Martha, or Donna have had. For better or worse, I feel that Russell T. Davies had a much better handle on how to tell an emotionally driven story than Stephen Moffat has. If he would just make better wibbly-wobbly, timey-wimey puzzles for his story arcs, I would be happy.
So it goes.
Pete and Jackie Tyler
I believe this is the first time we hear about Rose's father in the series. We have met her mum and her boyfriend, but her father is out of the picture. Until now we didn't know if he just walked out on the family or if he was in jail or what happened. We never really thought about it. It makes sense that he would not have been spoken about much since he died so long ago. Time heals all wounds and since Rose never really knew her father, he was just this empty spot in her life.
It's interesting to see how Jackie describes Pete to Rose as a child and how she reacts to him when he is still alive. She talked to Rose about all of Pete's wonderful inventions and all the ideas he had when she was scornful of them while he lived. That is such a realistic touch to his portrayal because people have all kinds of quirks and idiosyncrasies that drive you insane that endear you to them later when they are gone.
My grandfather died when I was in my twenties. He and I had been close when I was a child but as he grew older we grew apart because he was basically an overgrown child himself. We didn't get along and I was sad when he died, but I didn't think I cared all that much.
When I went to the funeral the minister giving the eulogy talked about all the things he loved doing and all of my memories of childhood came rushing back to me. He was the first person who ever treated me like I was special and he was a good friend to me when I needed one as a child. I started sobbing hysterically because there were so many memories I had of him that I had packed away because our relationship was too painful that all surfaced after he was gone. Human relationships are vast things far more complicated and compelling than any time paradox could possibly be.
The Doctor and Rose
One thing that strikes me going back and rewatching this episode is how it begins. Rose asks The Doctor if he can take her anywhere and he tells her that her wish is his command. He should know better than to put the universe at risk by possibly creating a time paradox. He does it anyway.
You could make the argument that this is sloppy storytelling, that The Doctor behaves irrationally because the story demands it. However, it doesn't play that way.
The Doctor cares about Rose. He wants to make her happy. He is willing to do whatever she asks because he cares about her. Later it dawns on him that she might only have agreed to come with him so that he would do this for her and it hurts him to feel that she used him. Their relationship is become more complicated because he is allowing his attachment to her to become way too personal. The behavior is irrational because emotions are irrational. He is angry with her, not for putting the universe in danger, but because he feels like she used him and doesn't actually care about him the way he cares about her.
Watching Rose uncomfortably go through their house ratting on about all the stuff her dad had that she heard about and the camera cutting back to Eccleston standing in stone silence is awesome. I have always said that it's great in shows where when the main character is angry they get really, really quiet. In Battlestar Galactica when Adama has to reprimand both Starbuck and Tigh after their escape from New Caprica, he doesn't yell. He just gets very, very quiet and says the most devastating things he possibly can. This choice to just show Eccleston pissed was fantastic. He's so angry he can't verbally articulate it.
In spite of how angry he is at Rose, he does everything that he can to try to save her father, even to the point of trying to sacrifice himself in Pete's place.
Even though they go to a lot of trouble to say they aren't a couple, they certainly act like one. Rose's knowing look when The Doctor comes back for her is great until she realizes exactly why he's come back.
Also, I hadn't remembered why The Doctor came back for Rose. Going and seeing him walk into the TARDIS and seeing that it was no longer bigger on the inside, then seeing the wheels turning in his head processing why it was like that before panicking and yelling, "ROSE!" was great. He's mad, but she's in danger and he's not going to just leave her there, even though it's her fault. Actually, I don't think he had much of a choice considering the TARDIS couldn't take him away anyway…
Rose and Pete Tyler
It's interesting to me to see the dynamic between Rose and Pete change over the course of the episode. When she saves his life he gets rather uncomfortable with her attention to him. He has no idea that she is his daughter or that he was supposed to die. Seriously, if some stranger pulled you out of the way of a moving car and started at you expectantly and you didn't know why, how would you feel?
I think it's to the credit of the writer that Rose has to come up with reasons to stay with her dad by lying about going to the wedding and needing a ride. I always hate it in TV shows where people wind up doing extraordinary things for strangers with no compelling reason other than the story needs it to be done. In the TV show Leverage you see the main characters taking up jobs in four person companies and no one bats an eye as to how they got there or why they are there and it's tremendously frustrating.
Even though a lot of trouble has been made to show Pete as a screw-up, he is able to piece together that Rose is his daughter and that all of the damage that is happening is his fault. This episode takes a normal, ordinary man on the worst day of his life and allows him to be a hero he never was. He gets to see the daughter that he won't be alive to see grow up. The episode makes it his choice to go and fulfill his destiny to die being hit by that car. How many people could do that, honestly?
Pete realizing that he is dead by listening to Rose tell him about this great dad he knows he is never going to be is completely heartbreaking. It's got to be difficult to listen to someone describe this amazing person they think you are to realize that it isn't you and it never will be.
It's kind of awesome that The Doctor comes up with an impossible plan to save the day at the last minute that gets fouled up by the human emotions and irrationality present in a difficult situation. We get so used to The Doctor pulling a solution out of his ass that saves everyone at the last minute that it's kind of awesome that they actually kill Pete Tyler and he stays dead. Not only that, but he's made the choice that he will die to save everyone and everything.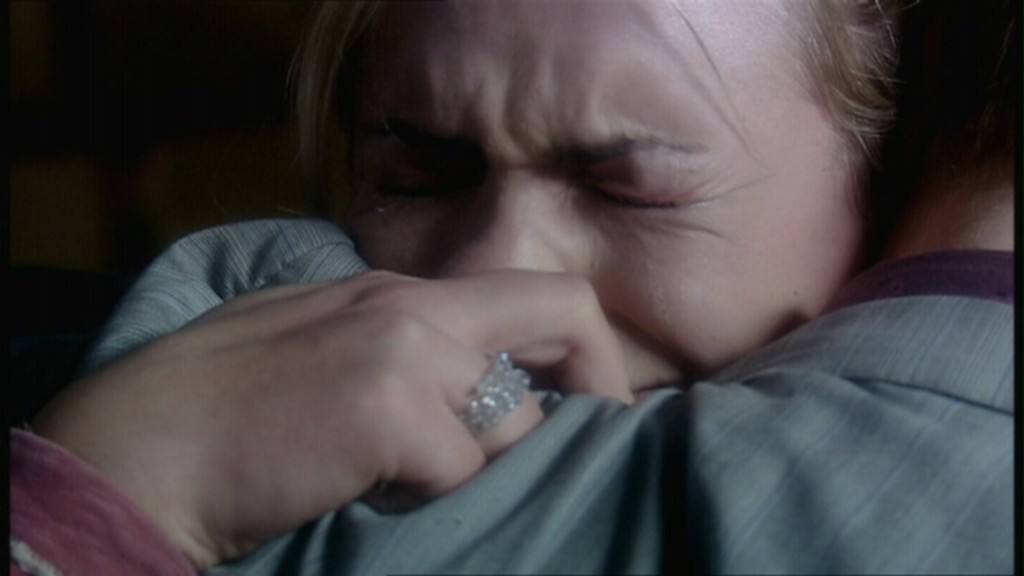 Ordinary People
A large, recurring theme in this episode especially is the idea of ordinary people. Rose argues that saving her dad isn't a big deal because he wasn't an important person. The Doctor says that the most ordinary person is the most important person in the universe. He tells the bride and groom that they are important.
So much of this first season of Who was about celebrating the ordinary. Rose is a normal, working class girl with a mundane, ordinary life. We get so wrapped up in the idea that everyone has to be Harry Potter that we lose track of the importance of common people. Each and every single person is the center of their own universe. We are not a world made of NPCs. We all work and love and live and that makes each and every one of us important.
After Thoughts
First off, I wanted to say that the person who scored this episode did a fantastic job. When Rose saves her dad and other bad time paradox things hit, the score shifts into a dissonant glissando. The music changes abruptly to a way that is wrong, which perfectly fits with the theme of this episode. Also, when Rose and The Doctor are talking about The Doctor having to let his entire world and people die, there is no soundtrack. None. It is silent. It is just him, his words, and his pain. Sorry, geeking out about music.
Holy crap. I didn't process/remember that the best man at the wedding who was trying to talk the groom out of not marrying the mother of his child and to just live in sin for ten years was the guy's father. LOL!!!
I have no idea if weddings in Britain are the way they are portrayed in Doctor Who and other British media, but I think they're fantastic. You have all of these women dressed like they are going to the Kentucky Derby who are hanging out in the basement of the Rotary Club. All the men are wearing tails while driving around in rusty old cars. Having this wedding taking place in the 80's and having the hybrid of the hats and the 80's fashion is absolutely fantastic.
I love the moment when The Doctor yells at Jackie to shut up and do what he says and when she actually meekly does it, he's like, "Wow, I should have done that a long time ago!" It's nice to have a moment of earned levity in the middle of a dark episode.
Also nice little jab at how clingy Mickey is even as a child.
The Doctor to Baby Rose: Now Rose, you're not going to bring about the end of the world, are you?
Seriously beautiful and amazing episode of Doctor Who. There is no grand mythology or puzzle to be solved. This is simply an episode about the power of love. Love can result in people doing the wrong things for the right reasons, or doing the right thing to save the people we love and cherish.
Next up we have the equally amazing two-part episode "The Empty Child" and the introduction of one of my personal favorite characters, Captain Jack Harkness.