Hi.
I have been writing recently that I am tired of living the way I have been living for the last year or so. I spoke yesterday about how I am going to try to stop myself from stressing out. Today, I am going to talk about one of the things I have been terrified for people to know about.
I have been asked how I feel comfortable talking about my struggles with depression and a lot of other things. I am less terrified about talking about those things than I am about showing pictures of my house. With depression, I can talk to people when I am not depressed and I seem like a normal enough person that it's easy to forget I am depressed, so it worries me less than showing visceral, physical evidence that I am depressed and my life is a mess. I am tired of living this way and I have been terrified of anyone ever actually wanting to come to my house.
So, here are pictures of my house that I took this morning: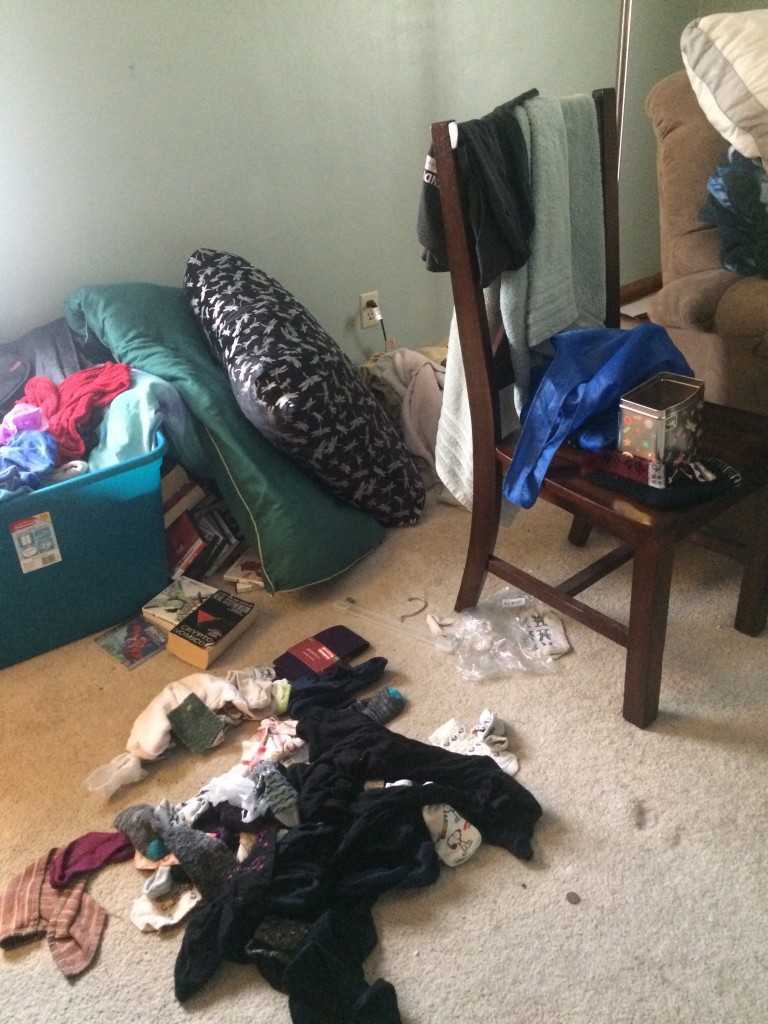 That laundry on the floor has been there for about nine months. It used to be in a large tub, but I realized I wasn't putting it away, so I dumped it out. It actually used to be worse this morning. I spent nearly an hour putting laundry away before I realized I should document how bad things are.
This is the master bedroom. I do not sleep in the master bedroom. Right now it's basically being used for storage for my clothes. This is the only room with at TV in it, so my PS3 and PS4 are in here along with a large chair. But this room is basically shut up and I never spend time in here.
I do sleep here. This is the only room I was allowed to keep anything in during my marriage. I would come home from class and find my things unceremoniously dumped in this room while I was gone. I got used to it being like this and I have been too depressed to do anything about it.
I have been sleeping in the bed that I have had since I was seven. You can see the pugs milling around in here. I did clear a nice path to and from the door so I don't break my neck.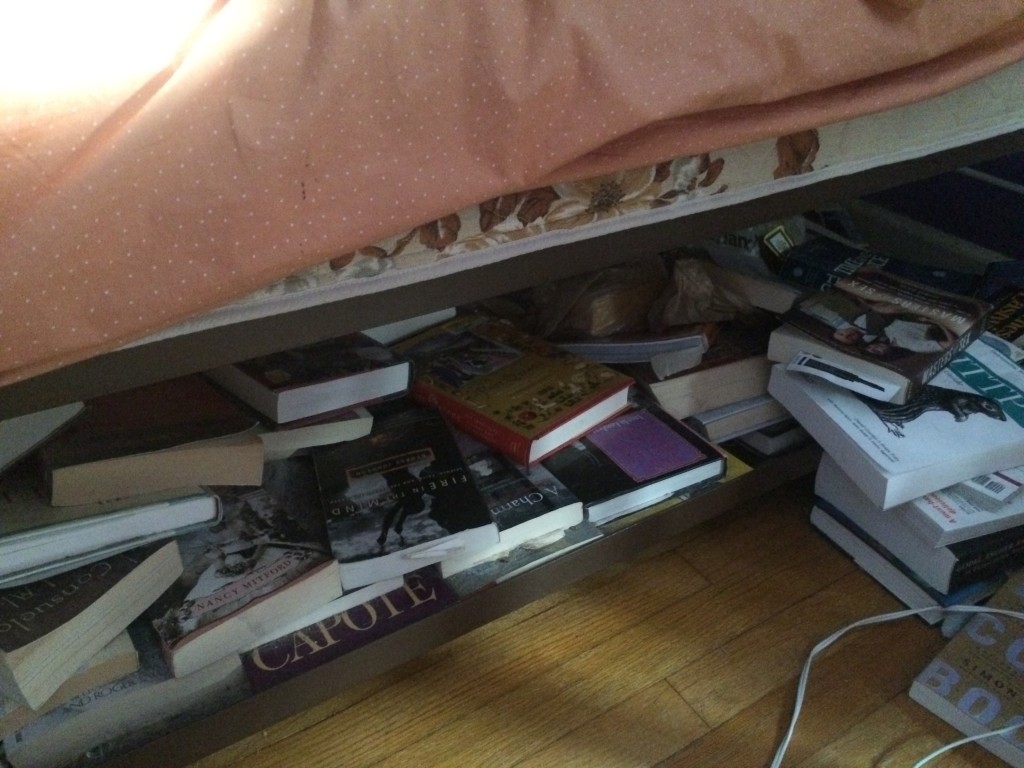 Since I had to keep everything in here and it isn't very large, I got creative with my "organization." When I get depressed I tend to buy a lot of books. I stored a lot of books under the bed. Sadly, since they are under the bed, I can't get access to them to organize them or clean under the bed. There is a lot of pug fur embedded in everything because I can't clean under here. My mom is concerned about me developing allergies to things because I sleep near this biohazard.
One of the projects at the top of my list is to clear this area OUT! I am probably never going to read 90% of the books under my bed, so I need to box them up and take them away. I have some books boxed up to take away, but I have trouble leaving my house to get rid of them, so that is another project I need to schedule. I can fill my car with books, drop them off at the used book store, then do my grocery shopping and just add it to my routine.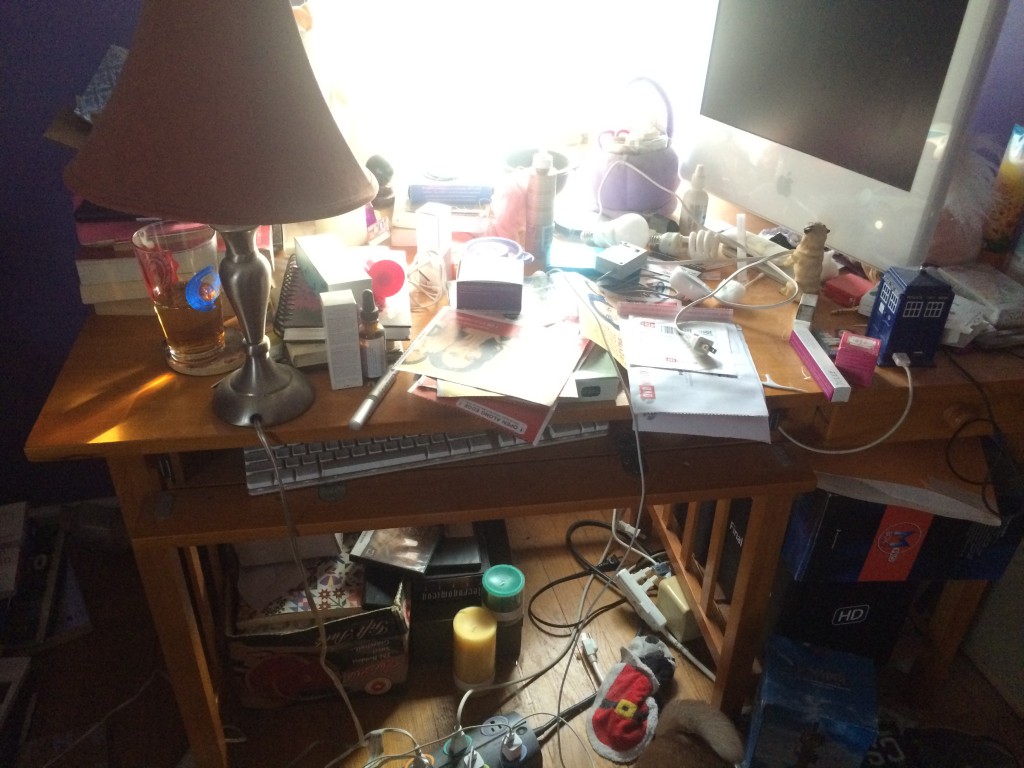 This was my desk in my old office back when my bedroom was my office. That desk used to be clean because I had to put my laptop there. Now that I don't use it for anything, it's covered in crap.
The iMac's operating system is from like 2010. I use it for watching movies in bed.
There are boxes on the right hand side of the desk that are full of manuals from Final Cut Pro 5 and Logic 8 that I really don't want to get rid of but I don't know what to do with.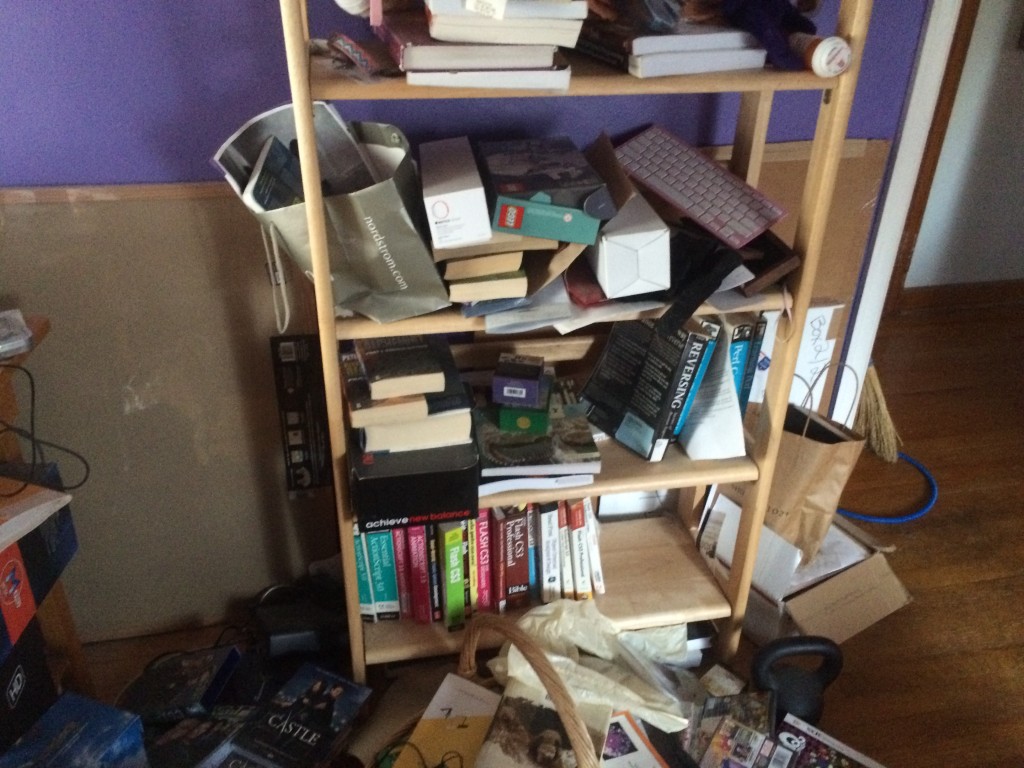 This is one of only three book shelves in the house. I made an attempt at organizing it at one point, but that failed pretty spectacularly. I made room for an entire shelf of Flash and Actionscript books.
I have had trouble figuring out how to organize my books because I don't know which ones I will keep and how to separate them out. I have three general types of books: Programming/Tech, Cooking, and general reading. I would like to keep the programming books together and the cooking books together, but I don't know where or how to do this and it paralyzes me from being about to do anything about it.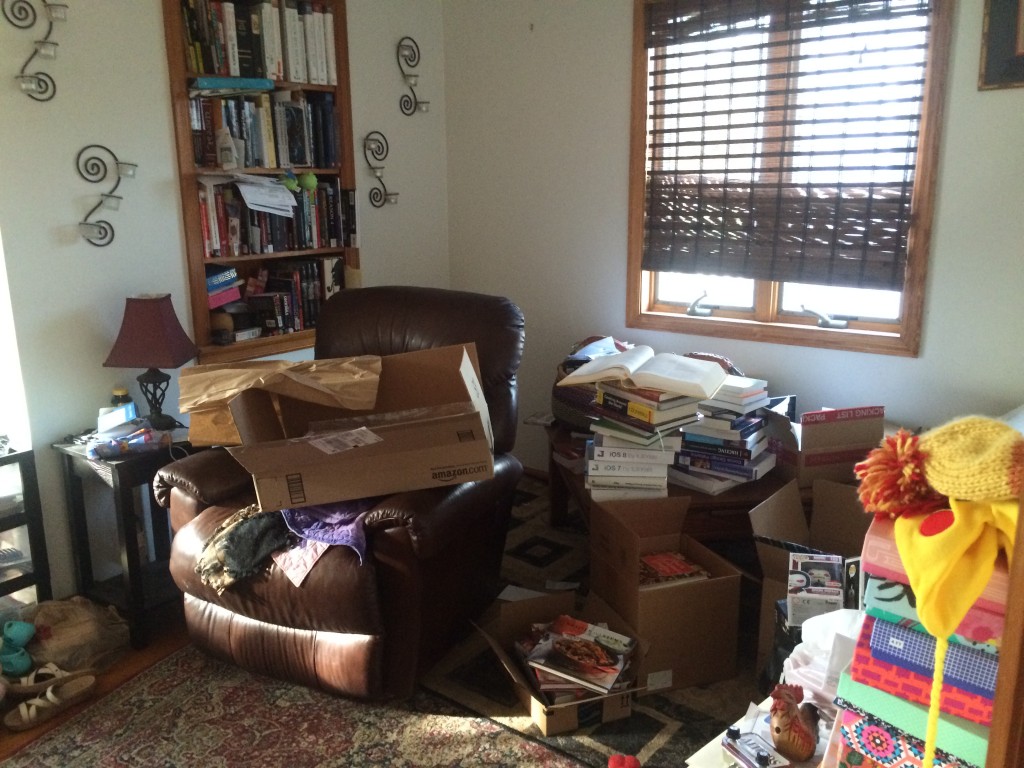 So this is my chair. It is part of a set of chairs and a couch that my ex and I bought. He took the other chair and the couch. I think he just ran out of room for my chair. It is primarily used by the pugs. Speaking of the pugs, that large box on the chair used to hold their food. I haven't broken it down and recycled it yet.
The shelf in the background is the second shelf I have in my house. I was putting my tech books on it because it's technically part of the "office", but then I also started putting cookbooks on there and now it's all discombobulated and it bothers me, so I ignore it.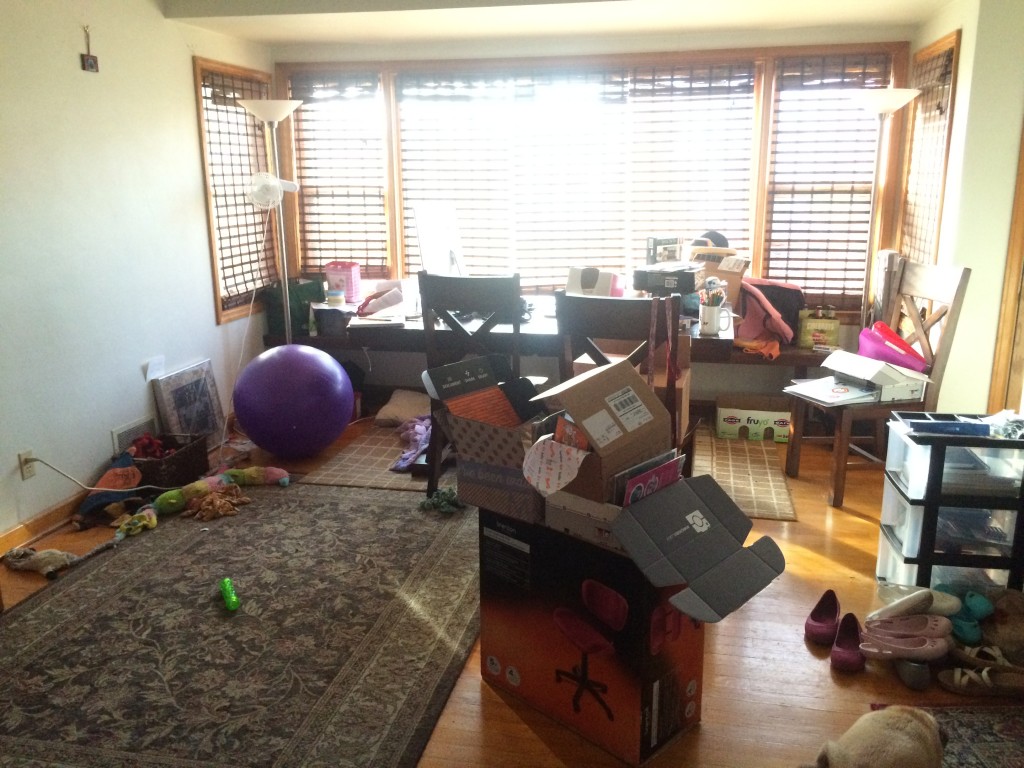 This is where I spend most of my day. The large box in the middle of the room is a pink office chair I bought from an office supply store that was going out of business that I have been too depressed to put together.
From my spot by the computer, my area LOOKS nice and clean and organized because I can strategically place things in a way where I don't have to mentally deal with the clutter and disorganization. Yay denial!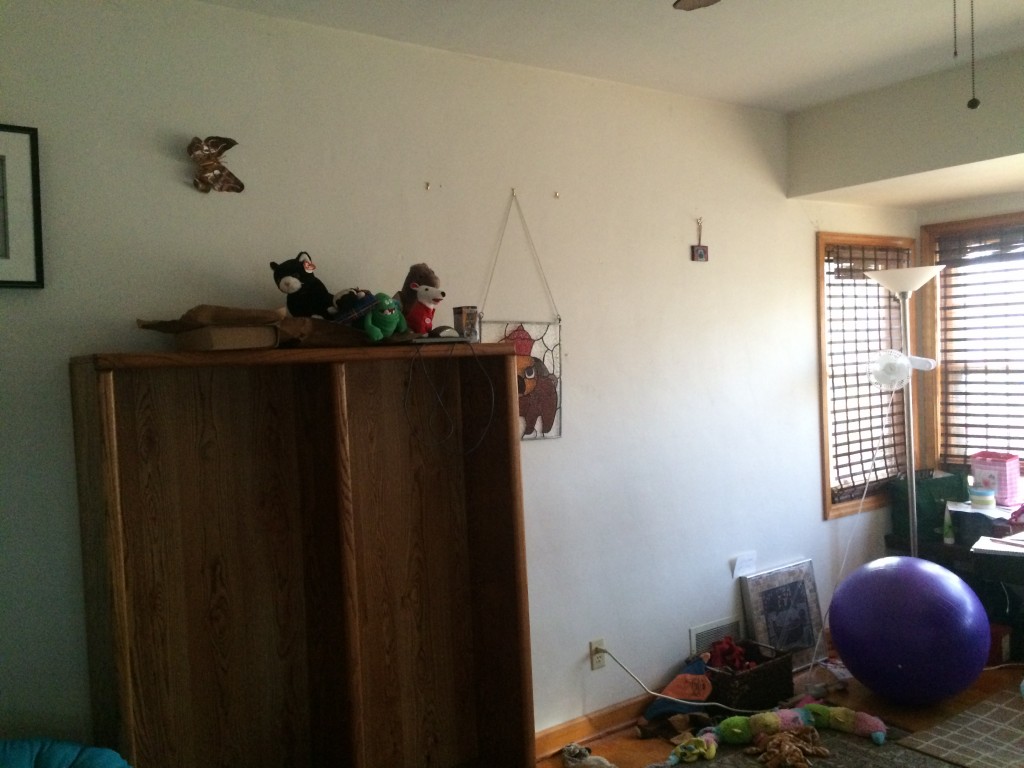 This last picture is a picture of my wall. It is covered with bare hooks because my ex-husband took a lot of the artwork we bought during the marriage. I got to keep the only piece I cared about, which was more expensive than the stuff that was taken, so it isn't like I got screwed here or anything.
This is also the last bookshelf in the house. It started falling apart and it needs to be put back together again. So right now it's this giant wooden piece of clutter that I mostly use to keep my stuffed animals away from Olive. I would eventually like to buy a lot of shelves for my various anime and video game figures and frame some of my nerdy art work and paint that wall. That will take a bit of an investment in planning and money that I just have been kicking down the road for a while.
Why I am Posting These Embarrassing Pictures on my Blog
I was asked by a lot of people this year how I had time to do all the things I have been doing. This is the answer. I have been working on books and conferences and a lot of other things not actually doing the things I need to do in order to be a functional human being.
It was easy to ignore this crap when I worked out of my house. I basically just used this place to sleep. I was never here and when I was here I was too tired or busy to do anything to make this place livable. I also was very conscious of my financial situation and I didn't want to spend thousands of dollars that I didn't have on furniture or organizational stuff for a house I never spent time at.
I used to daydream about taking my pugs to my parent's place with my computer and for us to come home and find out the house had burned down. I hoped that the problem would just go away without me having to do anything about it. I just wanted everything wiped clean so I could get out from under this.
I refuse to believe that learning programming and writing a book are easier than figuring out how to organize my house. I have not given this the proper consideration I should have and I have to fix it.
I plan to come on here periodically and show progress in the house. If I don't show progress then I really need some help. I am tired of living like someone in a mental institution. I am not going to turn into the crazy hoarder lady who dies because she got trapped under a pile of books.