This is the seventh entry in my "Top Ten Star Trek: The Next Generation" episodes.
Brief synopsis: The race of people introduced in "Q Who?", the Borg, make their long-awaited appearance in the Alpha quadrant. They kidnap Captain Picard and the show ends on a cliffhanger about whether Riker's order will result in the death of Captain Picard.
Memories of the Future
Absolutely no list of the top episodes of Star Trek would be complete without this seminal episode. This episode has been listed as the best episode of Star Trek ever, across all the franchises.
I remember seeing this episode when it first aired. I was eight years old and this episode scared the crap out of me. I asked my parents if everyone was going to be okay. Of course, this was the season finale and we had to wait months to find out what happened. I spent every night that summer carefully tucking my blankets completely around my body because I thought somehow that would prevent the Borg from finding me if they invaded my bedroom while I was sleeping.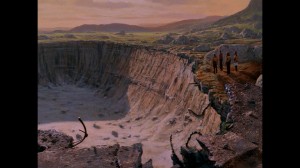 I am listing this episode as my third favorite episode of TNG. (Yes, for you actually still reading my series, I have three episodes to talk about after this one, I haven't miscounted.) This is without a doubt a wonderful episode, but it wasn't my favorite one. I went in thinking this would be my second favorite episode, but it got knocked down a little way.
My blame for the displacement of this episode is the fatigue I have with it. When the Borg were the most terrifying enemy the Enterprise had ever encountered in "Q Who?" this episode was fraught with danger and tension. In the nearly 25 years since this episode aired the Borg have lost a lot of their menace and what made them an interesting villain in the first place. I primarily blame Voyager for this.
It was strange going back and seeing this episode because there are so many things that happen in the episode that you just don't remember because you are waiting for the Borg to show up. The Borg are in here surprisingly little. That was interesting to observe.
The Borg
The Borg, in some ways, are like Doomsday from the Superman comics or Bane from Batman. Both of these villains either killed or broke their respective hero in their debut story. There really isn't much more you can do after that. They get brought back because they are interesting villains, but they shot their wad on their first go and everything else is kind of a let down after that.
The Borg were introduced in "Q Who?" as a test concocted by Q to see if he could get Picard to grovel for help from the omnipotent super being.
I think The Borg are the only characters we see who are more technologically sophisticated than The Federation. The other traditional enemies of The Federation that you see are The Klingons and The Romulans. Those villains are never a real threat because they are clearly never going to take over the Federation. I don't think that is ever really their end goal.
The Klingons fight because that is what they do. They're like a dog chasing a car. If they ever caught it they wouldn't know what to do with it. They are like Sir Pelinore chasing the Questing Beast. It isn't about the end goal, it's more about the process of wining glory on the battlefield and dying in combat.
The Borg are the only enemy that ever poses an actual, real threat to the Federation. The Borg have more in common with a disease than anything else I can think of. The Borg are like an antibiotic resistant bacteria that is out to infect everything it touches. They are a computer virus that is on autopilot to replicated itself until your storage fills and your hard drive crashes.
It is easy for me to imagine us giving birth to The Borg. Our increasing reliance on computers to do everything for us and the ease of overlooking the consequences of one line of programming logic is all that stands between us and the Borg. I think if anything the Borg have become more terrifying in the twenty five years since this episode aired because of how much closer we get to them with each passing year.
The Borg became less terrifying in the episodes after this one because the writers began changing the nature of the Borg and tried to make them more human, which I think was a mistake. I know when you get something that works really well you want to keep using it and running it into the ground. Unfortunately, that happened in Voyager with the two best villains from TNG: The Borg and Q. What Voyager did to Q was unforgivable. Grr…
Riker
The biggest reason this episode stayed in my top ten after the rewatch was primarily due to the conflict between Commander Riker and Commander Shelby.
This episode marks the second time Riker is offered command of his own ship. We know that a character isn't going to leave the show for a promotion, especially back in 1990 before we had the bloodbath era brought on by Joss Whedon. I think it is interesting that the writers actually addressed this fact this close to the beginning of the series.
Normally in real life if you are a young hotshot, you are going to go as far and as fast as you possibly can. That isn't an option for Riker. Most of the other characters can be given promotions without leaving the ship, but the only other step up the ladder for Riker is Picard's seat.
I know that the writers were flirting with the idea of killing of Picard. They didn't know if Patrick Stewart was going to come back, so creating this tension of setting up Riker to take over the Enterprise for Picard was somewhat necessary.
What went above and beyond this necessity was the conversation Riker has with Troi about why he is hesitant to leave the ship. This is a piece of character development that gives Riker some dimensions he didn't have before that might have just been ignored or disregarded on a lot of other TV shows. The fact that the writers put some thought into it and were able to give a good character explanation for him sticking around shows just how far they came from the terrible writing in Season One.
Riker and Shelby
The biggest plot point from this episode that I latched onto was the character of Commander Shelby. Shelby was brought on to be something of a foil for Riker. She is who Riker was five years ago before he "made it" and got comfortable with where he was.
Shelby is a strong woman. I am sure that the same people who hate Skyler White for being and emasculating bitch also hate Shelby. I think I remember not liking her at the time because she wasn't really meant to be likable, which is a shame.
I have been in her situation. At my last job I joined a reestablished team of people who were not really eager to welcome me into their group. I wasn't with them months earlier when they were at the office for 48 hours trying to reach a deadline. I wasn't there when they would grill brats out in the parking lot while drinking beer. It's really hard to come into an established group of professionals and make your voice be heard.
People are used to doing things a certain way and they don't like it when someone comes in and wants to shake things up. When you are working with the same people every day you are used to how they work and trying to deal with someone whose habits you don't know yet can be kind of rough. It really sucks being the person trying to break into the group, especially if people don't really want to welcome you there.
Shelby was pretty well screwed. I think she was in a no-win situation. When she went to the poker game and squared off with Riker there really wasn't a way to win that. By winning her hand and calling Riker's bluff she annoys the audience who is rooting for Riker. If she lost then she would lose her credibility and be dismissed as incompetent.
I know as a woman trying to figure out my way in a male-dominated field it can be difficult figuring out the best tack to integrate myself into a group of developers. The only successes I have had are when the other people in the group are predisposed to giving me a chance. Having been in a situation like Shelby of being the interloper in a group of people who have worked together on their own for at least a year, it was kind of painful and uncomfortable for me to watch her trying to gun for Riker's seat.
I wish we lived in a society where there was more sympathy for the Commander Shelbys of the world. Until that happens, I will just have to keep trying to figure out how to walk a line between being assertive and being a bitch when I am fighting for the right to have my voice be heard.
Conclusion
I guess I don't really have all that much to say about this episode. This episode has been covered by so many people that there really isn't a lot of new ground to cover. It was paced well. The episode had a really great villain who was still fresh and hadn't been spoiled by overexposure yet. There was genuine tension at the end of the episode about whether the writers would kill of Picard.
Given that the first Star Trek didn't survive after its third season, it seems fitting that this is the last episode of TNG's third season. It's kind of like a big "Fuck you, we are here and we are staying" flag that gets planted to make the point that TNG isn't going to disappear for several decades like its predecessor did.