This morning I was reading this piece by John Scalzi. There are a lot of people angry about the last episode of Game of Thrones that seems to have a rape scene in it that serves no narrative purpose. As opposed to all the other rape scenes that somehow serve narrative purpose. Bygones…
For years I have been telling people, mostly men, that I hate "Up". I am angry that the only female character in the whole movie dies within the first ten minutes. I am met with looks of disgust from these guys who all tell me that I obviously missed the point of the movie.
My annoyance has been rattling around my head for many years, but I was never really able to articulate the exact words as to why it pissed me off so badly. This quote from Scalzi's piece really helped to crystalize in my brain why I hate "Up":
I can't specifically remember what the story idea was, but I vaguely recall it being some sort Silence of the Lambs-esque thriller, in which an investigator and a serial killer matched wits, you know, as they do. And at some point, I dragged the investigator's wife into the story, because, as I was, like, 24 years old and didn't know a whole hell of a lot, I thought it would be an interesting character note for the investigator, and a good plot development for the book, for the serial killer to basically rape and torture the wife.
I thought it would be an interesting character note for the investigator.
Women in Refrigerators
The idea of the wife/girlfriend/mother being attacked by the villain is not a new observation. There is an entire trope around it.
When you have something as blatant as Gwyneth Paltrow's character being beheaded in "Seven", it's obvious that the character serves absolutely no purpose other than to be red shirted. No one makes the argument that her character was somehow a vital and important catalytic character in the movie when I am pretty sure she gets more screen time than Ellie does in "Up".
I would like to argue that Ellie is not simply a woman in a refrigerator. She is part of a more pervasive trend that I have noticed in story telling where you still have flat female characters, but that somehow they have some holy purpose in that their existence saves the hero in some form or fashion, even if they can't save themselves.
Coughing, Radiant, and Disposable
The next iteration of the Manic Pixie Dream Girl is the idea of the consumptive heroine. You have literal consumptive heroines like Nicole Kidman's character in "Moulin Rouge" and Jessica Brown Findlay's character in "Winter's Tale". This trope also bleeds over into any other instance where you have a female character dying of some kind of incurable disease whose death is used to enlighten the main character.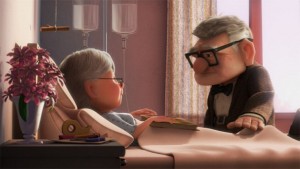 Again, many of these films are very poorly done, so you don't get a lot of people defending Jessica Brown Findlay's death in either "Winter's Tale" or "Downton Abbey." Her deaths are more symbolic of something other than who she was as a person. In Downton it was to remind people that childbirth is treacherous and that her dad is a backwards asshole who won't listen to the wise advice of a man of modern medicine. Her death services Lord Grantham's character development rather than her own and acts as an After School Special about the dangers of preeclampsia.
Ellie doesn't just die. She dies in the first ten minutes of the movie. When I looked up the film they didn't even list the voice actress who played her at the beginning. She literally has no voice. The vast majority of her time on the screen is part of a musical montage where you see her lose her baby, get sick, and die.
Ellie for all intents and purposes dies in the cold open. If Up was an episode of CSI she would be the body they find at the beginning before the obligatory opening credits sequence blasting a song by The Who. No one would argue that the body at the beginning of the episode is the most important character in the show, yet so many people I talk to argue about how important Ellie is and how it could be argued that the movie is actually about her.
Again, this is getting closer to the heart of the issue, but it still doesn't quite explain why "Up" bothers me so much.
Thanks for the Adventure, Now Go Have One of Your Own
I have already mentioned that Ellie loses her baby and eventually dies. She wanted to travel the world. She never gets to go on any adventures. This isn't uncommon. When I was a kid I wanted to be the first female president. I know at least two people who went to college and studied rocket science because they wanted to be astronauts but never made it into space. Most people don't wind up living the life they plan to lead. Sometimes the things we do today didn't exist when we were children. There were no cell phones when I was a kid. The possibility of doing this didn't even exist when I was trying to figure to what I wanted to be when I grew up. We all grow up and most of us wind up doing something different than what we thought.
It bothers me that somehow, we are supposed to have our heartstrings tugged by the fact that Ellie is satisfied with her "adventure" of being married to Carl for the last fifty years. There is nothing wrong with that. What bugs me to no end is that somehow, we're not supposed to think that he should feel the same way.
"Thanks for the adventure. Now go have one of your own."
So marriage was enough of an adventure for Ellie, but it isn't good enough for Carl?
So much of pop culture revolves around the male midlife crisis. For an example, let's look at the movie "American Beauty."
The main character, played by Kevin Spacey, lives a meaningless existence. He is trapped in a sexless marriage with an anal retentive shrew who makes it clear to him that he has disappointed her. He works a dreary job that he hates where he gets no respect. Then he meets an underaged girl who gives his life meaning. He realizes he shouldn't have settled for this dreary, miserable life. He buys a sports car, gets fired from his job, then goes to work at a fast food place so he can be stoned all day.
There are no stories about middle aged women who wake up one day and realize that they're trapped in a marriage with a family they don't want. That privilege is reserved only for men. Women are supposed to smile and nurture and never convey that they miss their lost youth when anything was possible. A guy can say he wishes he'd never had children but a woman who says so is a sociopath.
It bothers me that the writers of "Up" basically just made Ellie a plot device. She's a consumptive heroine. She leads a perfect, blameless life where she is simply happy to have lived then died to teach Carl how to live.
How much more compelling would Up have been if Carl had been the one to die? Watching Ellie learning how to live after losing Carl would have been just as, if not more, compelling as watching Carl go on his adventure. Would the writer have been brave enough to have Carl leave the message to Ellie thanking her for the adventure? Do we assume that women have lower hopes and expectations for their lives than men do?
Pixar generally makes great movies, but I feel like they really drop the ball on thinking about female characters. We finally got a movie around a female character and we wound up with Brave, which figures that if you give a girl a bow and arrow you don't have to give her any personality. There is no reason that every main character in most of their movies has to be male. It's just the default.
I am very excited for "Inside Out", the next movie that Pixar is coming out with. It is the movie I have been waiting for Pixar to do. The movie takes place inside the mind of a tweenaged girl who is going through life changes. The main emotional character is played by Amy Pohler. This movie could have had either a male or a female main character and they picked a girl. I am hopeful that this film will start to make up for all the lazy female characterizations over the last twenty years.
Death Handled Well
There is a right way to handle death as a piece of character development. The best example of this that I can point to is from the pilot of "Star Trek: Deep Space Nine."
In DS9, Benjamin Sisco's wife Jennifer isn't killed as a catalyst to either hurt or save Benjamin. Her death is tragic. She is killed by an anonymous enemy that destroys thousands of people. She is also killed in the first few minutes of the episode, but her death differs in some key ways.
She isn't some inspiration to Benjamin about how important life is and to catalyze a moment of self actualization. Benjamin is a husk of a man after he loses her. He raises their son alone while he tries to cope with the trauma of losing her. Her death doesn't inspire him. Her death arrests him. The entire episode is about showing how he can't move on from the moment he loses her.
I can't find a clip of this scene, but it's brilliant and I strongly recommend watching the whole episode just for this scene. Here's a transcript of what is said:
SISKO: What is the point of bringing me back again to this?
JAKE: We do not bring you here.
JENNIFER: You bring us here.
TACTICAL: You exist here.
SISKO: Then give me the power to lead you somewhere else. Anywhere else.
OPAKA: We cannot give you what you deny yourself. Look for solutions from within, Commander.
SISKO: I was ready to die with her.
TACTICAL: Die? What is this?
JENNIFER: The termination of their linear existence.
(and she puts her hand on his cheek)
TACTICAL: We've got to go now, sir.
SISKO 2: Damn it, we just can't leave her here. Oh, no!
SISKO: I never left this ship.
JENNIFER: You exist here.
SISKO: I exist here. I don't know if you can understand. I see her like this every time I close my eyes. In the darkness, in the blink of an eye, I see her like this.
JENNIFER: None of your past experiences helped prepare you for this consequence.
SISKO: And I have never figured out how to live without her.
JENNIFER: So you choose to exist here. It is not linear.
SISKO: No. It's not linear.
(and he finally starts to grieve properly)
We're not meant to think of Jennifer as a fully fleshed out character. She is a plot device whose specter looms over the whole episode. Benjamin is stuck and can't move on from her death. The inability to move on from a tragedy is a powerful story that all too many of us can identify with that is rarely explored in media.
The difference between Jennifer and Ellie is that we are supposed to somehow feel that Ellie is a main character who had a fully fleshed out life and existence. Even though she dies in the first ten minutes, we're meant to think that somehow because she considered her life an adventure it makes up for the fact that she conveniently disappears ten minutes in so we don't have to worry about her pesky emotional wants and needs.
I guess I also think it's different because I feel like Ellie was tortured before she died. She didn't get to live out her dreams. She lost her baby. She got sick and died. She had this miserable series of misfortunes and at the end we're supposed to feel like it's okay because she says she had a great adventure.
I am okay with Jennifer not being a fully formed character in DS9. No one is making the argument that she is. Sisco is the only captain on Star Trek who married and had a family. Showing the story of an African-American single dad is a story we basically never see. I am not going to quibble about Jennifer getting the short straw on this because it opens up another, richer story vein. Avery Brooks shows more naked grief in this clip than Carl does in the whole movie. Any time we can show any man, let alone an African-American one, cry from grief without being shamed for not manning up is okay by me. We need more of this.
Bringing it Back Around
So what was it about John Scalzi's piece that really crystalized these thoughts for me?
I thought it would be an interesting character note for the investigator.
Someone who came up with the story for Up decided that killing Ellie would be an interesting character note. Her character was made to be this perfect woman that any man would love to be with. Her purpose was to make Carl happy and to have no agency of her own. Someone thought that having her die would be an interesting story note for Carl. There were no other female characters in the whole movie except for Kevin, who is assumed to be male for most of the movie.
All the men who come up to me and tell me that I obviously didn't understand what the movie was about are coming from this perspective. They put themselves in Carl's shoes and think about how happy they would have been to have had a perfect girl save them and be with them for fifty years and think that the life they led together was enough.
Me, I saw this movie when I was unemployed and I had no idea what I was going to do with my life. Seeing this woman who was very much like me give up on everything she wanted to give up and die chilled me to the core.
I did not want that to happen to me.
I did not want to lower my expectations to the point where I would give up on ever doing anything with my life. I have fought for over five years to try and make something of myself because I knew that I would not be happy having the life that Ellie led. I dare say most women would not be happy leading that life. Some men want to believe that women don't have any aspirations beyond getting married and having a family because it absolves them of any responsibility for situations they are unhappy about. It allows us to think that somehow men and women want different things. Men want to be free and have adventures. Women want to settle down and nest. Somehow it's not possible for both men and women to want the same things.
I think that we are limiting ourselves by writing off the other gender as unknowable and stereotypical. Not all women want to have children and not all men want to be perpetually single. If you go through life without trying to put yourself in another person's shoes, you will miss a lot of the things that make life amazing. You might accidentally answer a personal ad from your wife because you never thought she might like pina coladas and getting caught in the rain.